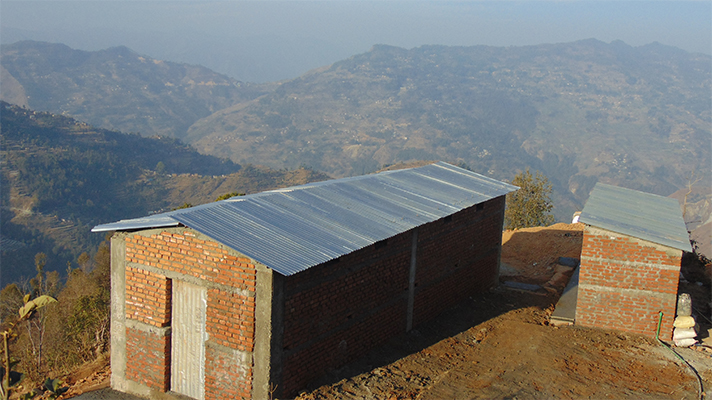 Rebuilding Post Earth quake Communities
22 February, 2017
Education Ray.com -February ,22-2017
Links of News Published :http://www.educationrays.com/shakti-milan-samaj-first-project-on-rebuilding-post-earth-quake-communities/
On historical time line of 25, April-2015, a devasting mega earth quake of 7.8 Ritcher Scale stroke in Nepal. The epic center of this mega earth quake was Barpak, a rural village of Gorkha. Mega Earthquake has directly and indirectly created a tragedy and scare situations till now. Natural Disaster has made different vulnerable impact on socio-economic, political, behavioral, infrastructures, demographic and health and so on. According to Nepal Government Grows Wary of foreign Aid (Retrieved July 29, 2015),"Over eight thousand Nepalese were killed, thousands of others were injured, seventy thousand people were directly victimized and millions of people were displaced". This tragedy brought critical situation and made direct impact to children's as many children's are psychologically affected, mentally depressed and scared due to mega stroke. They are forced to read outside and live without school infrastructures like toilet and reading rooms infrastructures, as physical Infrastructures were devastated and affected by Mega Earth quake.
Shakti Milan Samaj, the organization which is working on HIV/AIDS , food and Nutrition security and Women Violence Issues expand its program thematic areas to Disaster Risk Reduction ,Humanitarian and Response program- after the mega earth quake of April -25,2016 .SMS also started working on Humanitarian response, reconstruction ,disaster risk reduction and relief support because as a nongovernmental organization- this is our role and responsibility to help victims , survivors and emergency children who are biased and absent from service. Organization developed, designed and implemented the first response project "Post Earth quake Humanitarian support and health Awareness "Coverage of these projects was Thapa Gaun –Lakanpur Village Development Committee and Padam Pokhara Village Development Committee. This project was implemented through the help, support and funds from Direct Relief Organization, the Organization, based on California U.S.A and registered as non –profit organization.
During our response and orientation program at school and community, we found that in comparison to Makawanpur –Padampokhari Village Development Committee, Lakanpur Village Development Committee is geographically disordered as it a rural village with lack of quality infrastructures and it is harder to reach there. There was low level of presence of NGO, Governments and others organization for Response Program and to deliver services for Earth quake victims and survivors. SMS has monitored and surveyed the situations of school. All the schools Infrastructures were devastated by mega earth quake. When organization was Implementating the first response and humanitarian program at Lakanpur VDC- community Peoples, Parents and School Management team asked for help to rebuild school Infrastructures. Organization continuously monitored and evaluated school situation after response program also .After months, some of the donors supported school to build students reading room. Reading Rooms and Toilet are basic School Infrastructures. Only Reading rooms Infrastructures will not solve the problems of students. Toilet is also an essential Infrastructure for students and toilet was completely devastated by mega earth quake.
In the absence of Toilet at school -students were compelled to use open fields, barren lands and forest for defecation. Girls and women teacher were facing different problems during the monthly menstrual time and also they dropped out their classes and session. Due to the open defecation at school areas, environment degradation and several illness including Diarrhea and other poor sanitation related diseases spreads. To solve this Issue, SMS designed and developed a project -Construction of Earth quake –resistance, Sanitary Bath room and septic system at Shree Bhimeshowri secondary school in Ramechapp Districts. This project was also helped, funded and supported by Direct Relief. After 400 days SMS response and construction program was implemented at Shree Bhimeshowri Secondary Schools .The purpose of these projects were:
•Access to Safer and Earth quake resistance Toilet and WASH for more than 300 -Schools Students who were living without toilet.
•Disaster Risk Reduction by building safer and earth quake protected buildings and Infrastructures.
•Recovering the life of schools students through Quality and Resistance Infrastructures to cope against Emergency situation and Disaster.
•To help rural school students and connect again with school Infrastructures.
•Development of sustainable and earthquake resistance Toilet Infrastructure for school students.
•Protecting the surrounding environments of school areas from open –defecation.
•Protection of school students - sexual and Reproductive health rights
•Creating the favorable and safe environments for girls- During the Menstrual Hygiene monthly cycle.
Rural school of Nepal –shree Bhimeshowri Secondary School now access to toilet after 21 months and 5 days of post Earth quake Disaster. The toilet features consists of Boys and girls separate urinal toilet and Five pan toilet . Construction concept and implementation was based on Disaster Risk Reduction mechanism through Implementing appropriate and quality earthquake Protected and safer Toilet for Schools Students.
Rehabilitation, Reconstruction and Recovering the life of school students through disaster risk reduction and Implementating appropriate building and Infrastructures is best ways to reduce vulnerability from Disasters .Yet pace of Disaster Risk Reduction at grass root levels was low and lacks the Concept .If supporting hands and funds will be back bone for Shakti Milan Samaj –we wants to continue our works on Disaster Risk Reduction, Reconstruction at Earth affected schools areas by developing different programs such as
Orientation for schools students about Disaster Risk Reduction
Construction of quality and earth quake protected Infrastructures for schools Students still many schools students are forced to read out side.
By Distributing the Disaster Emergency Bags to Schools Students.
This project was launched on September 1st, 2016 and completed in January 31st, 2017 under the sponsorship and funded of the Direct Relief California. This project was Implemented by Shakti Milan Samaj .