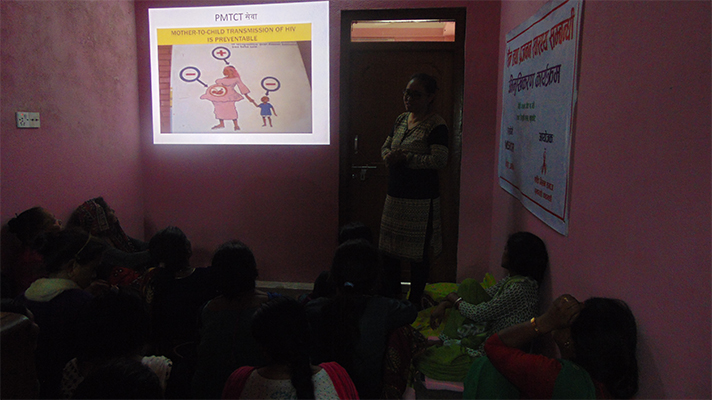 Empowering women living with HIV through Sexual and Reproductive Health
02 June, 2017
Reproductive health is a state of complete physical, mental and social well-being, and not merely the absence of reproductive disease or infirmity. Reproductive health deals with the reproductive processes, functions and system at all stages of life."(WHO).
Shakti Milan Samaj Conducted an Orientation entitled" Sexual Reproductive Health Education" on 30th May, at Trishuli Plus ,Nuwakot. The Program was supported by MISEREOR, Germany. 17 women living with HIV in the Program. The women living with HIV were sensitized about the Reproductive rights of women, Sexuality, Safe Motherhood, Family Planning, Abortion Uterine Prolapse, Sexually transmitted diseases and HIV/AIDS.
In the orientation, women living with HIV were very keen to know about the reproductive rights of women defined by the constitution of Nepal. The Safe abortion topic was also interesting to them which included the legal provisions for safe abortion in different contexts. Most of them seemed to be unaware about such issues, so it became guiding light to them. Also, the uterine prolapse was a topic of interest to them as some of them have faced such condition in their life. One of the Participant shared the story of her sister whose uterine was prolapsed and the hurdles she has faced in her day to day life. In the context of our country Nepal, Uterine Prolapse is still a matter of shame in the societal context, because of which women do not have access to medical facilities, which, in many cases, becomes a reason for Cancer. Some of the mother-in-laws said that they will take proper care of daughter-in-laws during pregnancy and motherhood. Also, they ensured that they will get proper rest till 45 days of child birth. In case of their daughters, they will provide proper education and will marry them only after the age of 20.
STD and HIV/AIDS section seemed to be quite familiar to them, but the topic like Prevention of mother -to -child Transmission (PMTCT) was a new to most of them. It provides antiretroviral treatment to HIV-positive pregnant women to stop their infants from acquiring the virus. So, they were excited for planning their family further. Since use of condoms is best method for preventing pregnancy, and offer protection against most sexually transmitted infections and HIV if used correctly. So, how to use condom properly was shown through demonstration. Few participants actively participated in the demo.
The feedback given by participant indicates that the Orientation has been fruitful to them for the enhancement of sexual reproductive health knowledge. Few of them said that the way of facilitating orientation was very effective. The long experience and expertise of our facilitator helped them to get the clear information in an effective way. The Orientation was a good example of participatory method of dissemination of knowledge and ideas as the participants actively involved in the knowledge sharing process. The facilitator also opened the floor for the discussion and some of them shared their personal stories about they get transmitted by HIV, when they lacked the knowledge of transmission of such infection. It was like a platform for them to share their woe, personal stories, the path they have walked through and many more. Since all of them were Women Living with HIV (WLHA) and most of them are not open in the society about their status, so it was like a place to pour out their inner feelings.
Finally, the participants assured that they will disseminate the knowledge they have gained to people in their societies and also it will make a change in their sexual reproductive health. There is a saying that" If a woman is educated than the whole family becomes educated" and it seems that it is going to imply here.
Shakti Milan Samaj would like to thank Trishuli Plus, Nuwakot and the whole team for their effort and coordination to make the orientation a grand success The Program would not have been successful without the untiring efforts of the whole team of SMS, especially, CHBC Team Leader Ms. Tara Rana Magar who facilitated the Program, Samjhana Ghimire who facilitated the program communication , and whole team of MISEREOR -Basanta Prabha Khanal and Khem Raj Rai for leading and management of whole program .