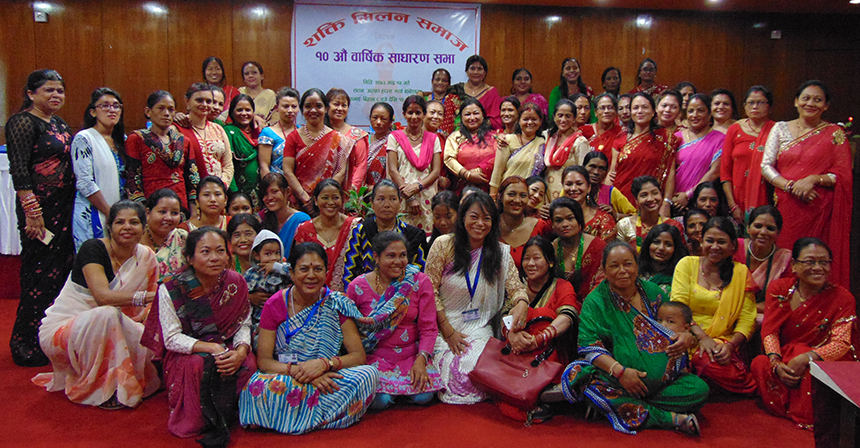 The full name/registered name of organization is "SHAKTI MILAN SAMAJ" the abbreviation is "SMS". SMS is a non –governmental, non-profit ,non-political and non- religious organization with a primary Mission to Facilitate health care and ensure access to resources, human rights of women and their children living with HIV/AIDS through advocacy, capacity building, care and support and referral service for Treatment .It was founded on 2003 and registered in 2006 under the society Act with the District Administration Office in Kathmandu(13/063/064).It is affiliated with social welfare council (affiliation number -20066) under section 13 of the social welfare Act ,1992 ,Nepal in Kathmandu .
This organization is Formed, Governed, lead and define by women living with HIV. A group of women who were victims of HIV through most at risk population came together in 2003 with a common mission ,vision and goals to work on the Issues of HIV/AIDS, women rights and violence against women living with HIV, socio –economic development and Food and Nutrition security .Since from founded SMS is dedicated, motivated and committed for contributing our time ,skills and energies towards taking positive actions and connection to transform the lives of women and children infected and affected by HIV/AIDS through livelihood ,care and support and Advocacy and Awareness raising. SMS designs and implements various projects on different thematic areas –Empowerment's, income generation, education and skills development ,care and support ,HIV/AIDS awareness raising, advocacy campaign, rights campaign and nutrition support with the financial and technical support of International ,National donor agencies ,non-profit management organization ,single donors and the Government. Design and Implementation of such projects has enhances and brings growth in a HIV survivors community.
Vision:
Just societies where women and their children living with HIV/AIDS are free from violence, stigma and discrimination and have access to quality health care, education and economic resources.
Mission:
To facilitate health care and ensure access to resources, human rights of women and their children living with HIV/AIDS through advocacy, capacity building, care, support and referral service for treatment.
To reduce Violence, stigma and discrimination, improve care and support for women and their children living with HIV/AIDS
Core Values :
Influencing Network , Improved Governance , Transparency
, accountability and Partnership
To raise awareness, to change negative attitude of people towards women living with HIV and AIDS and reduce the risk of HIV infection among women and children
To reduce stigma and discrimination among women and their children living with HIV and AIDS
To ensure access to treatment and provide care and support for women and children living with HIV/ AIDS
To empower women living with HIV/ AIDS with information about their rights including their rights to access and have full control over economic resources
With the new strategy in place SMS will change the way we work to adapt, grow and thrive. We will be guided by following principles:
1.Be part of influencing network
Unlike previous strategy the new strategy does not only work with the HIV infected people but also focuses on addressing root cause of HIV/AIDS. This will require
trans formative
changes at various levels and SMS will collaborate and work in partnership with civil society organizations to leverage impact from our actions at local level.
SMS's vision of just society is possible only through improved governance. Our priority will be to improve governance within organization as well as at the macro level. Hence, SMS will always strive for facilitating active participation of HIV infected and other vulnerable people; ensuring transparency and accountability. SMS will be committed towards downward accountability to the right holders and also improve upward accountability to donors as well as remain accountable to partners and allies. Gender will remain main priority for effective roll out of strategy.
3 Enhanced capacity (Human Capital)
SMS value people living with HIV/AIDS and their capacity to make the world a better place. To effectively deliver this strategy we need to invest on people and organization. Realizing the fact that child born from HIV infected parents are likely to be orphan, SMS will also focus on investing on building institutional capacity. SMS will be open to outsource experts and attract people to volunteer for SMS. SMS being led by a group of HIV infected people values staff or volunteer willing to work for longer with SMS.
As a growing organization, SMS will improve its program quality through effective monitoring and application of learning. SMS will focus on improving Monitoring and Evaluation system to ensure quality of our impact. We shall remain accountable for success and failure and embrace failure to adjust our approach based on learning.
SMS will prioritize working for the vulnerable and marginalized people to prevent them from entering into the trap of vicious spiral. However, this doesn't necessitate working solely with those target groups. SMS will be open to work with privilege group to benefit our target group. We believe that trans formative change is almost impossible without working with every segment of the society.
Realizing limited capacity of SMS to deliver services to all vulnerable and HIV infected people our action will focus on rights based approach so that we can leverage the impact. We work for the rights holders to make duty bearers more accountable to our target groups.
Shakti Milan Samaj (SMS) will take two fold strategies in the next five years (2016-21) that will focus on addressing root causes of HIV/AIDS by working with the most vulnerable people and also working with HIV infected people for their dignified life. The current strategy delineates the pathway for SMS to contribute towards achieving National goal as stated in Government of Nepal's (GoN) National HIV/AIDS strategy 2016-21.
Coordination and cooperation with all the developmental stakeholders, government line agencies, local level bodies, civil society and grass root stake holders
PHLIV Group formation, strengthening and mobilization including Child club member
Cooperation and co actions with Developmental Agencies and Organizations
Strengthening and mobilization of Community Care Center
Research, publications and information dissemination
Advocacy, lobbying and Awareness Raising
Networking with HIV/AIDS agencies
Thematic Partnership
HIV|AIDS Violence against women living with HIV|AIDS
Food and Nutrition Security Socio -economic Development
Humanitarian and Disaster Response Women Rights
THIS ORGANIZATION IS FORMED , GOVERNED ,LEAD AND DEFINE BY WOMEN LIVING WITH HIV